Circle H Ag Sales
4523 SW State Road 45
Newberry, FL.
So much more than just a feed store!
Monday – Friday 8 – 6
Saturday 8-2
Sunday – Closed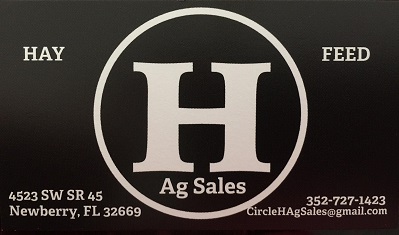 Welcome to Circle H Ag Sales!
Hay. Feed. Supplies. Experience.
Let us help you plan for success!
If you need it, we've got it!
Feed and Hay
Farm equipment
Yeti products
Seed
Fertilizer
Simply Southern apparel
Do you look at all the feeds and supplements on the market, and wonder if you're doing right by your animals?
We get it. There is a ton of information out there, and it creates more questions than it answers. At Circle H, we are a farming family, and we've been part of the agriculture community in Newberry for many years. Let our experience help you find the anwers you need!
Whether you are raising your first show pig for 4H or FFA, a veteran cattle rancher, a barrel racer, farmer, or a backyard gardener, we can help assess your options and make a plan.
Circle H. So much more than just a feed store!
Located on Hwy 27 between Newberry and Archer.
Click the links above to visit the websites of our feed producers
At Circle H Ag Sales in Newberry, FL, we believe that quality feed and forage is the foundation of a healthy animal. Our feed producers have put a lot of scientific research into the feeds that they make, and we encourage you to go to their websites and learn more about them. The ingredients are important, and so is the guaranteed analysis of fat, protein, and vitamin content of each feed. Talk to us, or to your veterinarian, and create an appropriate feed plan for your animal based on its needs. A great feed will save you money and heartache by keeping your animal healthy and happy!
Circle H Ag Sales in Newberry, FL. So much more than just a feed store!